YOUR LONG TERM CARE PROFESSIONAL
Eleanor Packer
Member of a National Network of Professional Insurance Specialists
Eleanor is dedicated to serving and educating her clients on Long Term Care options and provides clients with information on the various solutions to the Long Term Care issues facing all of us as we live longer lives.
She has specialized in long term financial planning and protection for more than 16 years. She is a graduate of Adelphi University with a major in Social Work and has spent her life working in many different areas of Social Service helping people in need. Eleanor holds a Certified Senior Advisor (CSA) and Certified Long Term Care (CLTC) designation, is licensed by New York, Connecticut and the National Partnership for Long Term Care in many States. Eleanor began her Life and Health practice being licensed in New York, but through friends and family referrals and recommendations have expanded it to include many other states, including but not limited to NJ, CT, FL, MD and VA.
Eleanor's expertise is in advising and helping you negotiate the complicated decisions on how to keep your independence and dignity when the time comes for Long Term Care. She focuses on your individual needs and will provide you with various solutions to help protect your income, your and your family's assets and your retirement portfolio. This protection will enable you to make your own choices, and to remain as independent as possible while sheltering your savings.
Eleanor began specializing in Long Term Care Insurance out of personal experience as a caregiver to her mother and mother-in-law. She experienced first hand the emotional and financial strains of caring for aging and ailing family members. After seeing the cost of Long Term Care far exceed what had been anticipated, Eleanor decided to help other families plan for and manage these sensitive issues. It is clear that a personalized Long Term Care Plan is essential to maximizing physical and financial independence and to ensure quality care.
Eleanor provides Professional Seminars, Workshops and serves Individuals, Small Businesses, Financial Planners, CPA's and Estate Planners.
Many of us focus on living active, full lives and dismiss those fleeting thoughts of "what if something were to happen to me"? Nothing happens to any of us…until of course…it does! The longer we live, the greater the probability that we will need Long Term Care for a period of time in our lives. No amount of proper eating or exercising will guarantee us a healthy and independent lifestyle until the end. Not being able to care for ourselves creates the largest financial and emotional upheaval we and/or our family will have to face.
Protect yourself and your loved ones by securing your future needs now with Long-term Care coverage.

Please Contact Me At:
Email: csalongtermcare@gmail.com
Phone: 1-914-468-6477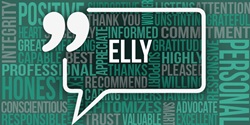 Read How Elly Has Helped Others With LTCi Planning
This note is in reference to the care and support that Elly Packer gave me when I applied for long-term care insurance. Her ability to make the process understandable as well as always being completely supportive of my needs allowed me to make all the correct decisions when choosing the appropriate policy. I recommend her highly to anyone who is contemplating the need for this type of insurance either in their current life or sometime in the future.
— Mark W.
I have been extremely pleased with Elly's assistance in helping me first choose and then apply for insurance. The process was considerably more involved than I had expected, but Elly was always willing and able to solve any problems that arose, and did so with unfailing good humor. She was highly conscientious and was unstinting with her time. If I need further help in this area, she will certainly be the one I go to. I recommend her to all others in need of her services.
— Fred
When we bought our long-term care policy from Elly Packer, my husband and I heaved a sigh of relief. Elly took the time to understand our own particular healthcare situation, carefully explaining all our options, and presented us with a plan carefully tailored to our need and budget. She is responsive, well informed and has protected our children from some potentially huge financial and emotional burdens. Thank you, Elly!
— Ann F.
My husband, Andrew, and I contacted Elly a few years ago when we decided it was time to create a long-term care plan for ourselves. Elly was (and still is) an absolute pleasure to work with. She is the consummate professional yet is also warm and caring. She was immediately responsive to our needs and extremely patient and knowledgeable when explaining the various programs available to us. We always felt that her advice was sound and that she had our best interests at heart. Elly epitomizes all the best qualities of what one would hope to find in a person in her position.
— Suzanne N.
This site is not designed to and does not provide medical advice, professional diagnosis, opinion, treatment or other medical services to you or to any other individual. Through this site and links to other sites, Eleanor Packer and Associates provides general information for educational purposes only. The information provided on this site, on its social media accounts or through links to other sites is not a substitute for medical or professional care, and you should not use the information in place of a consultation with a physician or other healthcare provider. Eleanor Packer is not liable or responsible for any advice, course of treatment, diagnosis or any other information, services or product you choose to obtain based on the information provided on this site.